I.T.S School of Management, Ghaziabad organized a webinar on "Emerging Organizational Structures in the Post Covid-19 World" by Dr. Feza Tabassum Azmi for PGDM (2020-22) batch on 9th  January, 2021.
Image Of Events: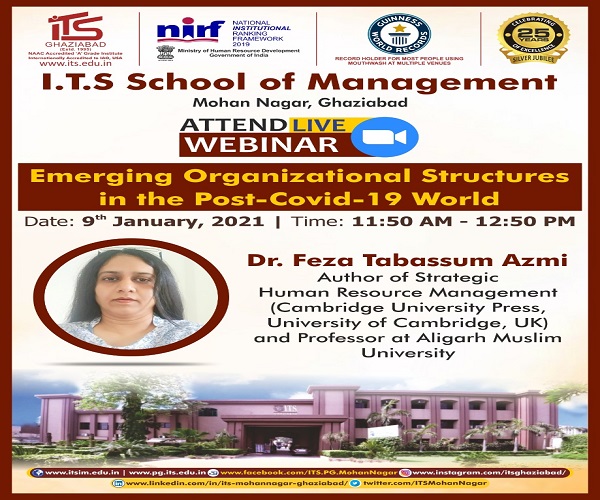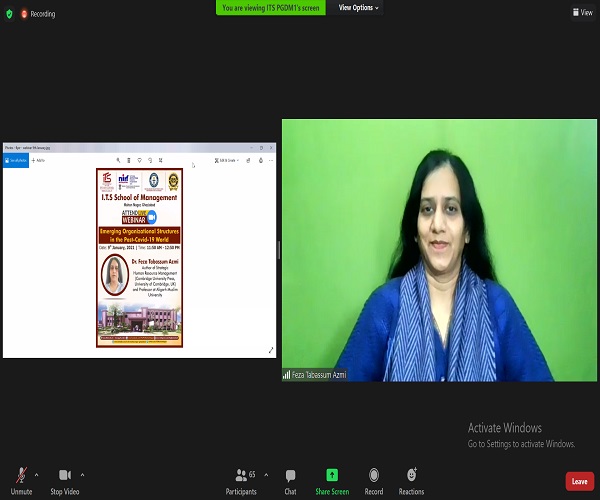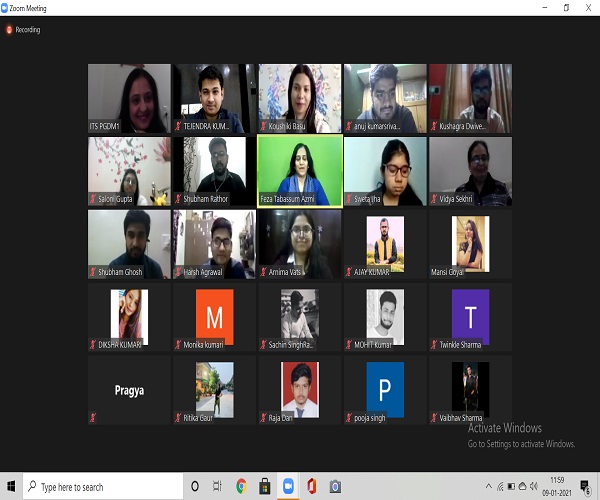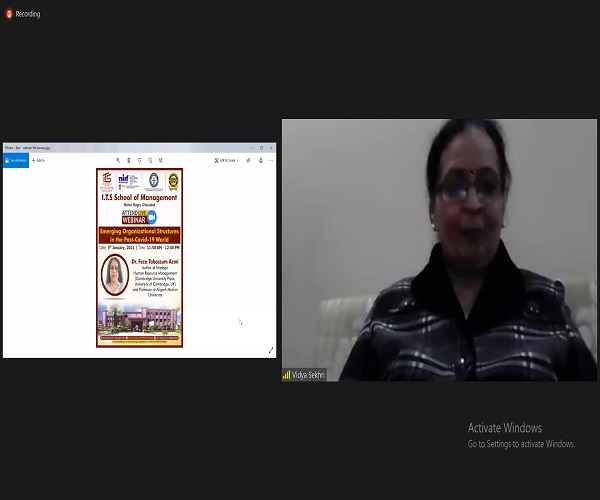 Full Date Of Event:
Saturday, January 9, 2021
Hide Body Of News :
Dr. Feza Tabassum Azmi is a renowned Professor at Faculty of Management Studies & Research, Aligarh Muslim University. She is the author of the book on Strategic Human Resource Management published by Cambridge University Press, University of Cambridge (UK).
The guest was welcomed by Director Management, Dr. (Prof) Vidya Sekhri, who enlightened the students with her words of wisdom. In the beginning of the session, Dr. Feza highlighted the tremendous change taking place in the organization and the emerging need for flexible organizational structures. She elaborated the rise of the gig economy and how the focus on flexible project-based work is gaining popularity. Businesses today are looking for agility and responsiveness and for that they have to quickly respond to the challenges posed by the dynamic and turbulent environment. She explained the contemporary organization designs like Hyperarchy which paves way for a fluid, team based, cross functional collaborative work arrangement. She also highlighted the fact that there will be no innovation or free thinking if there will be too much of hierarchy. She also talked about the concept of Velcro organization which is based on easy fastening and unfastening of Velcro hooks by quoting examples of FORD & General Motors. She further discussed about the virtual organization/communities as- HUB & SPOKE design.
It was a very insightful session and students participated enthusiastically as they raised a number of queries which were addressed by Dr. Feza. At the end, a virtual plaque was presented to Dr. Feza as a token of gratitude and remembrance.