itsmn@its.edu.in | 8447744044 |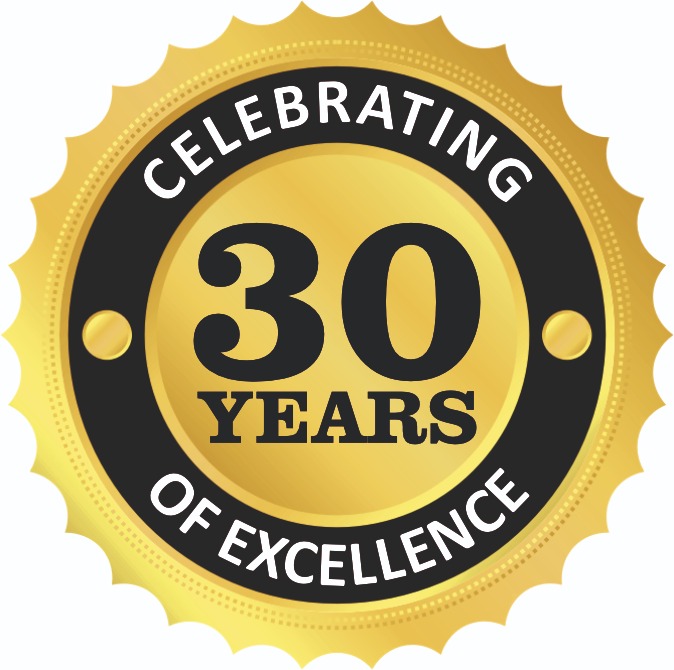 Why I.T.S.
I.T.S - The Education Group is an 25 years old leading educational group of the country. Its various programmes are NBA accredited & NAAC A+ accredited. ISO 9001:2015 certified group offers 20 courses to its 8000 students in its 8 Institutes spread over 4 campuses, endowed with state-of-the-art infrastructure, all modern facilities and more than 700 distinguished faculty members.
NIRF Ranking
In top 100 Institutes in India-2019
News & Events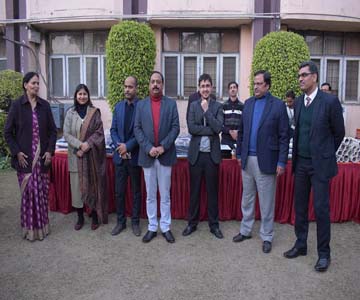 "Welcome to 2019" - Celebration at I.T.S - Mohan Nagar
Celebration of 'Saying ADIEU to Year 2018 and Welcome to New Year - 2019' with new hope, new goals and big achievements at I.T.S - Mohan Nagar, Ghaziabad took place on 31st December, 2018.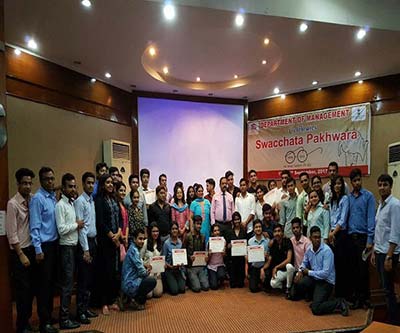 "Swatchta Pakhwada" organized by "5S" Club of Management Department.
Management Department of ITS, Ghaziabad conducted various activities under "Swatchta Pakhwada" as Initiated by MHRD and AICTE. Activities lined up during the fifteen days were Essay Contest on "What I can do for clean India", "Green Campus Day", Short Film Competition on "What I can do for clean India", "Clean Mess Day", "Clean Hostel Day" and "Cleanest Hostel Room" Contest on 1st -15th September 2017.
The first activity was organized on 4th September which was an essay writing competition on topic "What I can do for Clean India". The students wrote very interesting and creative ideas on cleanliness and the winners of the First, Second and Third Prize were Anchal Omar, Jhalak Agarwal and Anisur Rehman, all PGDM (2017-19) Batch students along with five consolation prizes that went to Shikha Rawat MBA (2017-2019), Sunidhi Jain PGDM (2017-2019), Anneysha PGDM (2016-2018), Abhijeeta PGDM (2016-2018) and Subhrasha Das PGDM (2017-2019)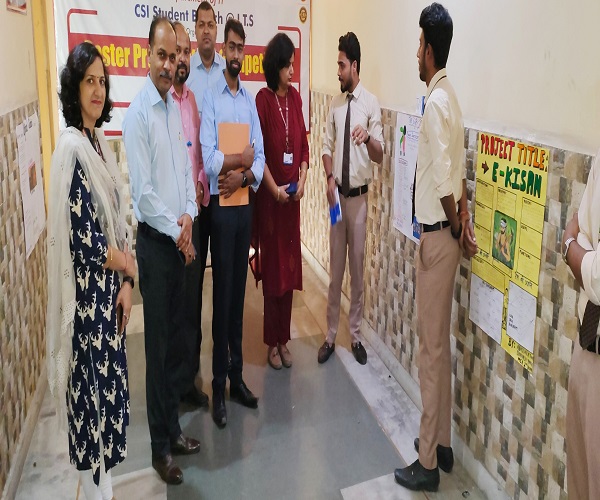 "Software Requirement Poster Presentation Contest" for MCA
CSI Student Branch @I.T.S, Department of IT, I.T.S, Mohan Nagar, Ghaziabad organized a Software Requirement Poster Presentation Contest for MCA-2nd year Students on 5th November, 2022.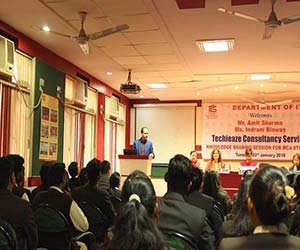 "Knowledge Sharing and Experiential Learning" by MCA Alumni Mr. Amit Sharma and Ms.Indrani Biswas, Techieaze Consultancy Services.
A Special Session on "Knowledge Sharing and Experiential Learning" was organized for MCA Students on Tuesday, 23rd January, 2018 at I.T.S, Mohan Nagar, Ghaziabad. The Session was planned with an objective of providing an in-depth discussion on employability skills. This was really a very informative and knowledge enriching session.
In this session,MCA Alumni Batch 2005, Mr Amit Sharma invited and MsIndrani Biswas were invited as Key resource Persons for this event. Mr. Amit Sharma shared his valuable thoughts and focused on communication and employability skills of Students. He also discussed about work culture of Startups and MNCs.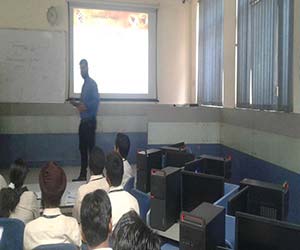 "Industrial Workshop on C"
Two days Workshop on "Industrial Workshop on C" organized by Corporate Resource Centre of Department of IT, for MCA IVth Semester Students on 4th and 5th April -2017 during 10:00 AM to 4:00 PM. First day of the workshop attended by 46 student of MCA IV Section A and second day of the workshop attended by 34 students of MCA IV Section B .
Mr. Anurag Dubey (HR Manager) , Mr. Sagar Bhalla and Mr. Vipul Saini ( senior software engineer) form CEBS Worldwide Noida were the resource person of this workshop and this workshop was coordinated by Mr. Balmukund Singh and Prof. Abhay Kumar Ray.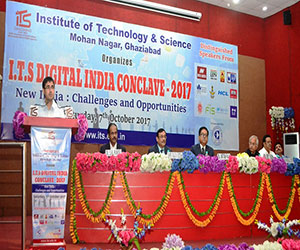 "Digital India Conclave-2017"
Prime Minister Mr Narendra Modi is working for a "New India" by 2022, the 75th anniversary of Independence and focus on the welfare of poor and farmers. Year 2014 was the year of "Make in India and Swachh Bharat", 2015 was about "Start Up and Stand Up India", 2016 was "Digital India" and 2017 is now about "New India".
To have a discourse on this agenda, The Department of IT conceptualized and planned I.T.S Digital India Conclave-2017 on the focal theme of "Opportunities and challenges for New India" on Oct 07,2017.
The Conclave witnessed of different stakeholders of society to discuss, deliberate and understand the emerging role of every dimensions- Industry, media, technology, policy making, consumers and executives from various walks of life. The conclave was threaded into three sessions
The theme for session 1(Inaugural): Making Technology Work for Everyone with Multiplier Effect
"The proliferation of technology and its enabled services have not only made the life easier of a common man including banking, shopping, communication and sharing of information has reduced the gap of digital divide between privileged background and those who are less fortunate. In this session, eminent speakers from different walk of life shall share how a strategic effort will advance and accelerate the work with the help of technology."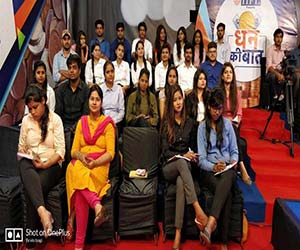 "Dhan ki Baat"- A Session at Zee Business
.T.S Ghaziabad organized a visit to Zee Business, Film City Noida, for MBA IIIrd Semester, finance specialization students, to attend "Dhan Ki Baat" on 27th October, 2017. The Guest invited for the show was Mr. Md. Shahid, from India Infoline. Mr. Shahid gave an elaborated presentation on, why one should buy Health Insurance, as a very important tool for covering risk component in the personal wealth management. As further elaborated, the premium charged, role of TPA, claim ratio and network of insurance company were discussed as key checkpoints, at the time of purchase of Health Insurance.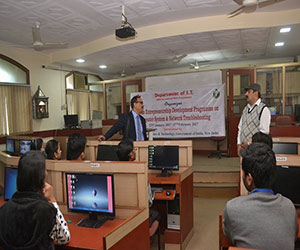 "Cyber Security"
Department of I.T. organized an Expert Talk on "Cyber Security" in association with CSI Student Branch @ ITS, Ghaziabad on Tuesday, 31st January 2017 for MCA-IV Semester Students. Mr. Balaji Venketshwar, Consultant PWC, Former Vice President, Bank of America was the resource person for this session. The objective of this Talk was to make students aware about many cyber threats and solutions available.
While delivering his welcome address, Director-IT, Dr. Sunil Kr. Pandey said that Department of IT always provide many opportunities to their students where they can update their knowledge and bridge the gap between industry and academia.
Chairperson-MCA, Prof. Puja Dhar said that cyber security is a top concern in the IT industry today and students are privileged to listen to Sh. Balaji where they can know the various career opportunities available in the market


Previous

Next
Student's Announcements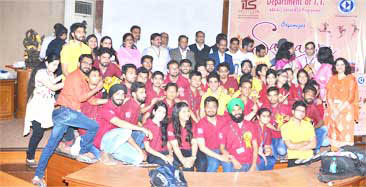 WORKSHOP ON JAVA TECHNOLOGIES
A workshop on Java technologies, Java Core Concepts, Overview of J2EE, JSP, with concept MVC was conducted for MCA IV semester and BCA VI semester students on 16th February, 2018. The workshop was aimed to provide concepts of OOS and core java including elaboration of components of J2EE.

"ANUBHAV-2018" Summer Internship Project Competition on Saturday, 29th September, 2018
ITS PG Management department is organising SIP competition on 29th Sept 2018. For the same pl run the following on the institute web site : www.its.edu.in
Commemcement of MCA II & IV Semester Classes
All the students of MCA-II & MCA-IV semester are informed that their Regular Classes are commencing from 22nd Januray, 2019. All the students are required to report in full uniform alongwith valid Identity Cards.
You all are required to report at 09:10am in the below mentioned class rooms :
MCA-II Section-A Room No. 4, AB-III
MCA-IV Section-A Room No. 5, AB-III
MCA-IV Section-B Room No. 6, AB-III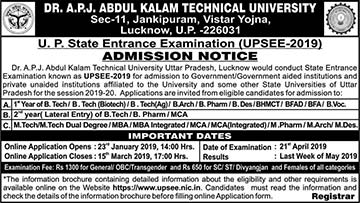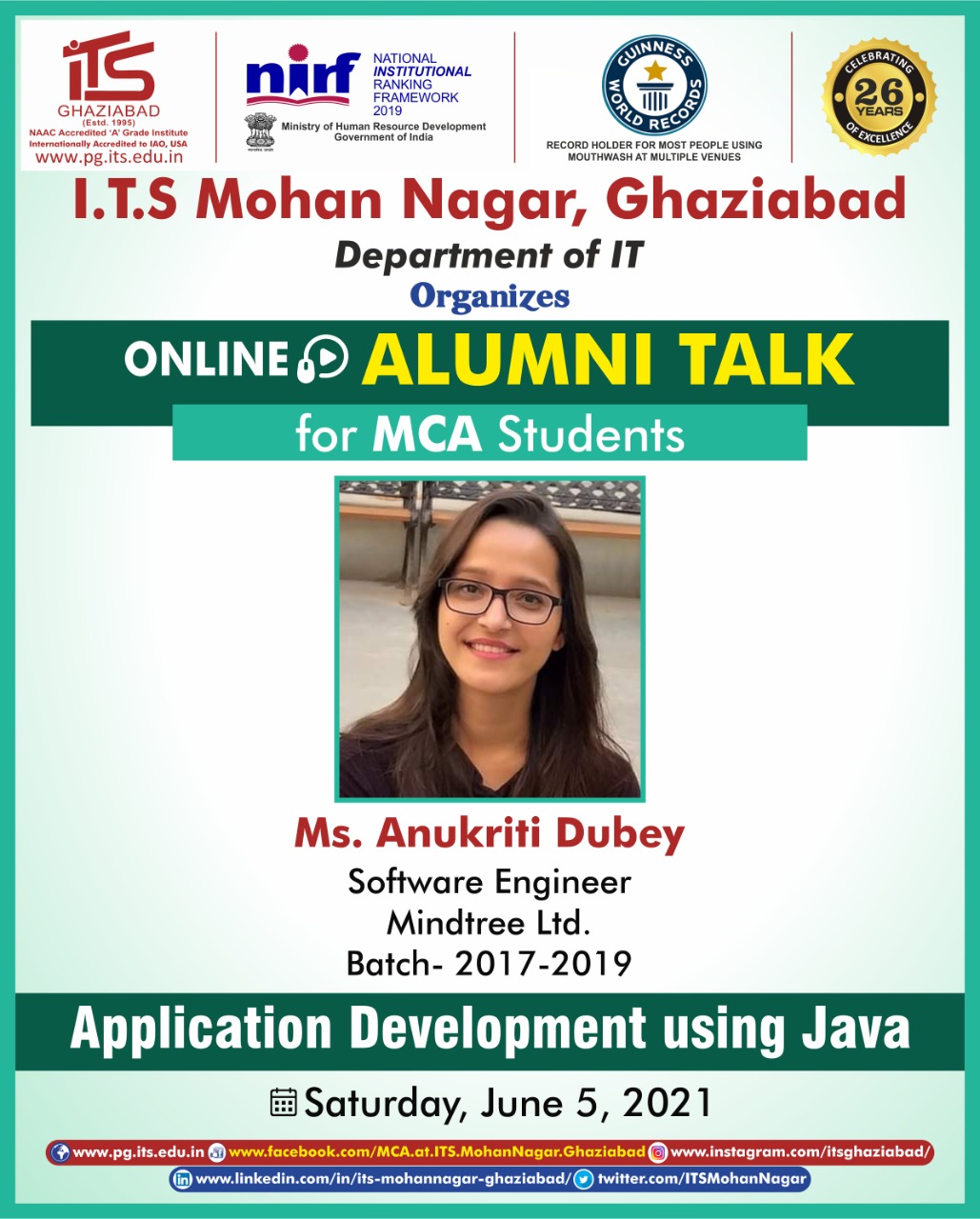 Alumni are the real strength of any Good Academic Institute!
It is always an honor for a teacher seeing their Students competing, excelling and succeeding in their Professional Career and coming back to their own Institute to share their experiences, learning and work with their Faculty and guide & mentor existing students. We feel privileged to have wonderful Alumni with us who have always extended their all support in growth of the Institute.


Previous

Next
Programmes
"Master of Computer Application (MCA), Two Years Programme at Institute of Technology & Science [University Code: 038], Delhi-NCR is a full time regular programme affiliated to AKTU, Lucknow and approved by All India Council for Technical Education (AICTE)."
MCA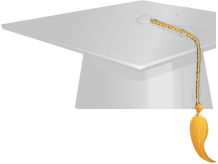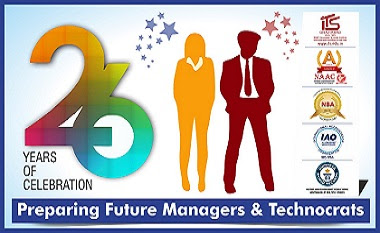 NAAC Accredited A+ Grade Institute
NBA Accredited MCA Programme
Association with ASSOCHAM, CSI & FICCI
NPTEL Local Chapter
Entrepreneurship Development Cell
"The Institute started MBA programme in the year-2004 which is affiliated to Dr. A.P.J. Abdul Kalam Technical University, Uttar Pradesh, Lucknow and approved by AICTE,Delhi-NCR."
MBA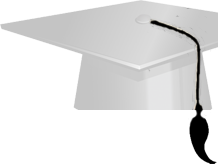 Gallery
© I.T.S 2022 • Mohan Nagar, Ghaziabad •