The Institution Innovation Council (IIC) of the I.T.S School of Management, Ghaziabad organised a virtual special session on "Orientation to National Innovation and Startup Policy " for PGDM and MBA students (2020-2022) on 31st December, 2020.
Image Of Events: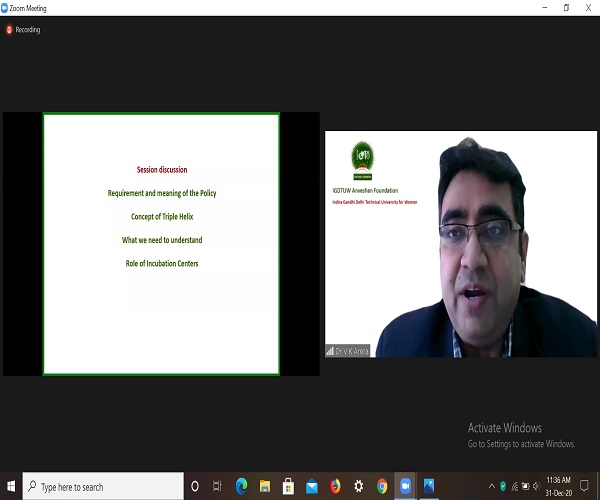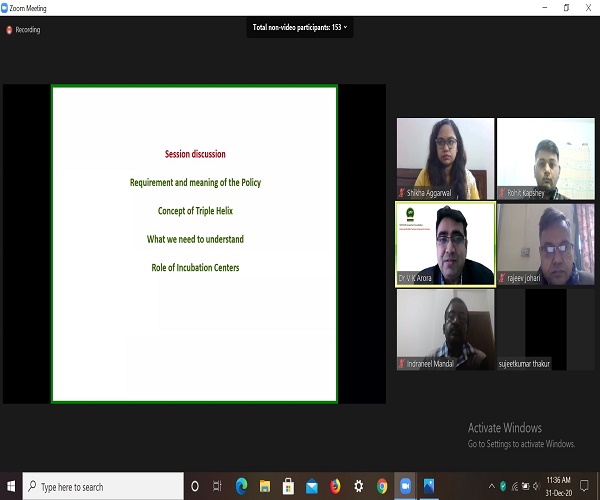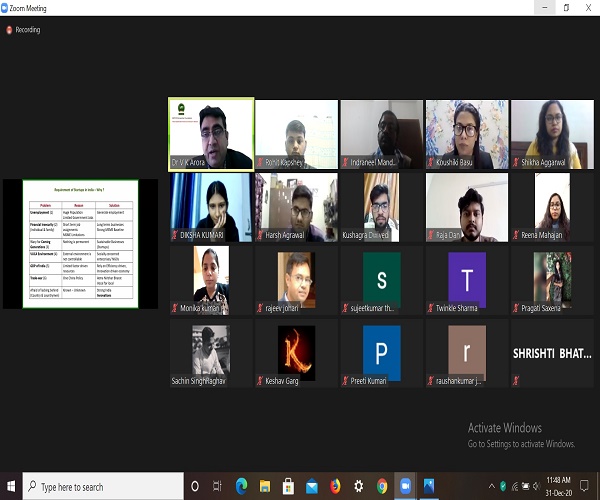 Full Date Of Event:
Thursday, December 31, 2020
Hide Body Of News :
The invited Speaker for the occasion was Dr. V. K. Arora , CEO of Indira Gandhi Technical University for women IGDTUW - Anveshan Foundation. He is also a trainer in entrepreneurship, strategic management and the functional areas of management.
In her welcome address, Dr. Vidya Sekhri, Director – Management, and President, IIC ITS, advised the students to stay dedicated and try to make most of the crisis instead of making excuses. She also emphasised that students must be courageous enough to take risks because every failure brings you one step closer to success.
Dr .V.K. Arora greeted the students by describing how a policy towards innovation helps in building a strong path for entrepreneurship and also justifies the role of the government and its support services. Dr Arora spoke about the various aspects of entrepreneurship like unemployment, GDP, VUCA environment etc. He discussed about the improved ranking of India since 2014 with regard to the ease of doing business and also threw some light on the vision of our Honourable Prime Minister Mr. Narendra Modi, including the push towards an Atma-Nirbhar Bharat.
He emphasised upon the Triple Helix Model and the role of the incubation centres at different levels in the corporate world. He also advised students to think innovatively and encouraged them to visit the various government portals like those for Startup India etc. He also highlighted that "When there is problem, there is an opportunity"; in other words students need to work on the problem part and try to come up with different innovative ideas.
The session was very interactive and encouraging; students participated with zeal and raised a variety of queries at the end. The session concluded with the presentation of a virtual plaque by the Director (Management) as a token of gratitude to Dr. Arora. Dr Rajeev Johari, Convener, IIC ITS, praised Dr Arora for his insightful ideas and expressed the hope for similar interactions in future.