An invited talk by famous renowned Adjunct Professor, "Prof San Murugesen" Western Sydney University, Australia, was organized on 7.12.2016 at I.T.S, Mohan Nagar, Ghaziabad Before starting of the session, Prof San was warmly welcomed by Dr Sunil Kr Pandey Director-IT by presented him a bouquet. 
Image Of Events: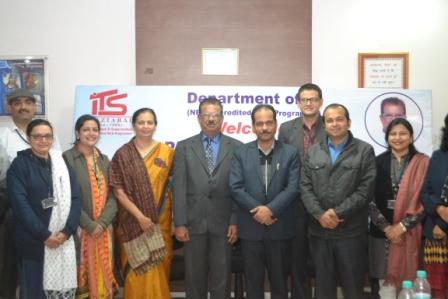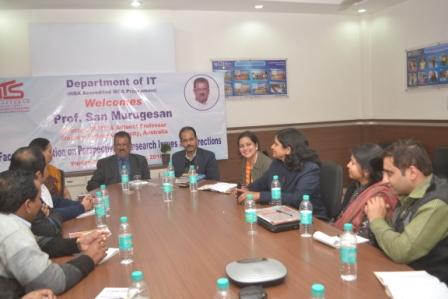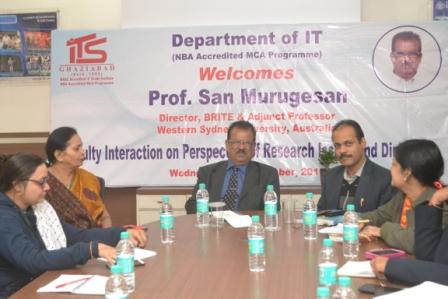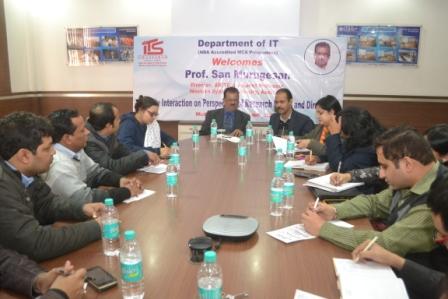 Full Date Of Event:
Wednesday, December 7, 2016
Hide Body Of News :
In this session, Prof. San Murugesan delivered talk on "Perspective of Research Issues & Publications". He has discussed about "issues in research publications" and also focused on "How to write research papers" in journal/magazine/letters repute.  This was a completely interactive & knowledge enriching session in which Prof. San addressed the queries, concerns and issues of faculty members. During this sessions were relevant issues as mentioned below, were answered & addressed,:
Opportunities for Publications and their scope
Differentiating the requirements of publications for Journals, Magazines, Letters, Book Chapters
How to frame & structure a Quality Research Paper
Why Title of Papers and Abstracts are important 
Why, in most cases, Papers are rejected even before initial review
What are the factors considered while selecting a paper by a reviewer in any standard  good journal
Significance of Impact Factor, its objective and does it really matter?
Research work should be taken up further to validate its Practicality
In addition to above many other queries of faculty members were addressed.