I.T.S - Mohan Nagar, Management Department organized an Online Summit - 2020 on the focal theme "Changing Business Landscape in Covid Era" on 28th June, 2020.
Image Of Events: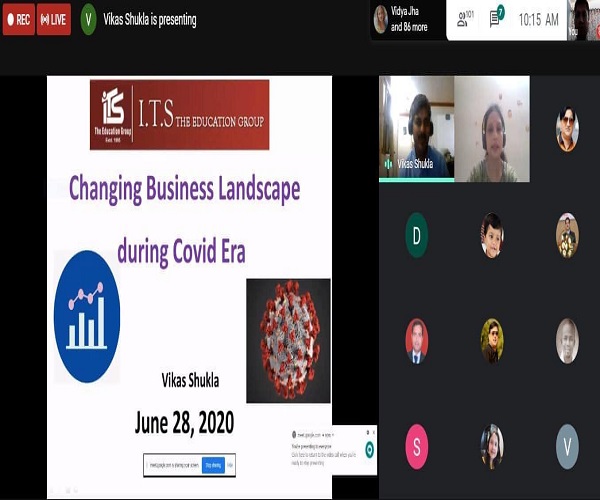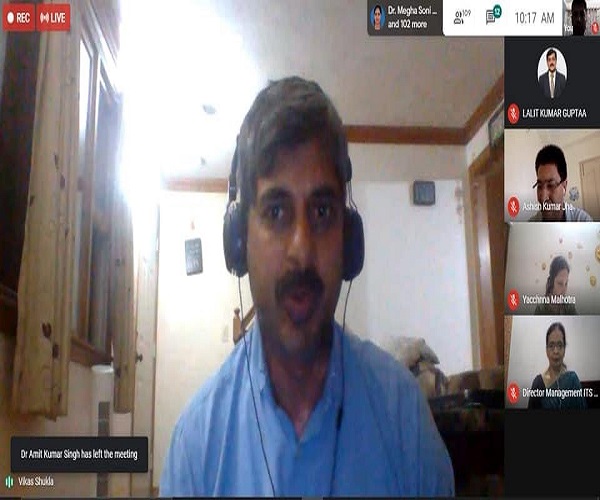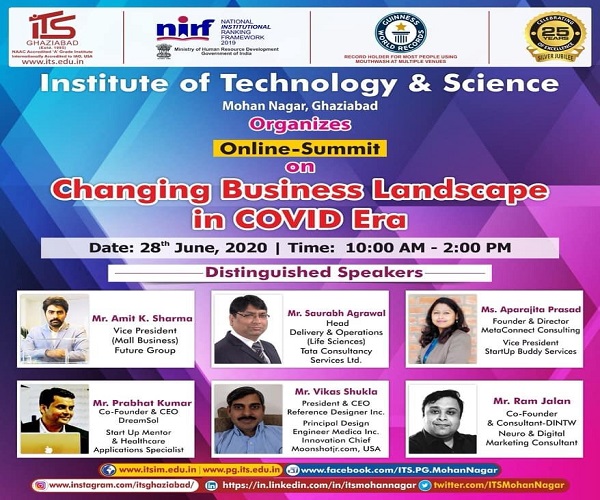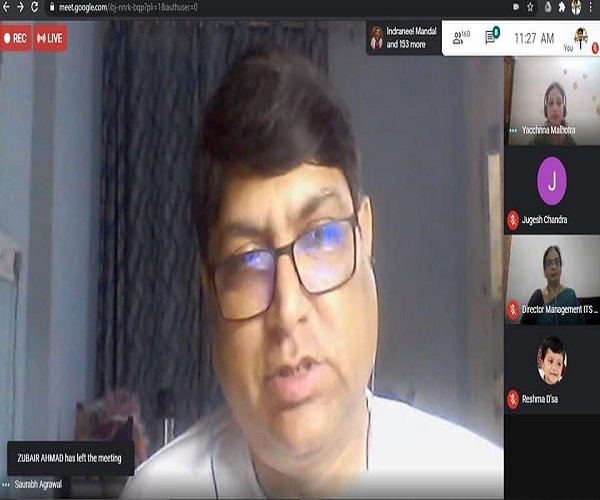 Hide Body Of News :
Online Summit program had received an overwhelming response with registrations of 500+ participants which includes Industry Delegates, Faculty members and Research Scholars and participants from the different foreign countries as well.
The Online Summit had the enlightening and insightful two sessions. All the renowned Resource Persons presented deep insights of various Changes, Strategies and Innovation in the Business Landscape in the Covid Era.
These were really informative sessions by the following renowned Expert Speakers:
1. Mr. Vikas Shukla, President & CEO- Reference Designer Inc. & Principal Design Engineer- Media Inc, U.S.A
2. Mr. Saurabh Agrawal, Head- Delivery & Operations (Life Sciences), Tata Consultancy Services
3. Mr. Amit Sharma, Vice President – Mall Business, Future Group
4. Mr. Ram Jalan, Co-Founder & Consultant- DINTW, Neuro & Digital Marketing Consultant
5. Mr. Prabhat Kumar,Co-Founder & CEO- DreamSol, Start Up Mentor & Healthcare Specialist
6.Ms. Aparajita Prasad, Founder & Director, MetaConnect Consulting, Vice President, StartupBuddy Services.
Inaugural Session: The event commenced with the stimulating address by Shri Arpit Chadha, Vice Chairman, I.T.S - The Education Group. He shared with participants that how different Businesses are changing, innovating and strategizing to adapt this new Normal.
Welcome address was presented by Director (Management), Dr. Vidya Sekhri. She shared the objective of this Online Summit and explained that how the Leaders are navigating a broad range of interrelated issues that span from keeping their employees and customers safe.
During the Session-I, Mr. Vikas Shukla from Boston, USA delivered a very informative session about the various Changes that are coming in the way businesses operate pre and post Covid Era across all the sectors.
Mr. Saurabh Agrawal, discussed the Business Continuity and Crisis Management during Catastrophes by taking the live case of TCS that how TCS as an organization took care of its employees and customers at this time of pandemic.
Mr. Amit K. Sharma, discussed with the participants the structural changes that retail sector is witnessing during this Covid Era with context to Indian, US and China retail and online markets.
Mr. Ram Jalan, presented an interactive session and discussed the need of managing Data and make informed decisions by using this huge data.
Mr. Prabhat Kumar, presented the practical insights on how technology and Health care industry is integrating at fast pace to create lot of opportunities and advised students to take up virtual projects to enhance their employability skills.
Ms. Aparajita Prasad, delivered a very motivating and inspiring session with the special emphasis on the changing business models and the need of adopting technology and getting digital in order to survive in this competitive world.
The Online Summit marked out an intellectually profitable learning program for everyone.
The beauty of the summit was the evident from the way that the audience kept peppering the chat platform with different questions aimed at the different resource speakers.
All the participants sincerely appreciated the deep enlightening sessions delivered by all the Distinguish Industry Leaders as Resource Speakers during the Online Summit on "Changes in the Business Landscape in Covid Era".