I.T.S Mohan Nagar, Ghaziabad organized a special Online Seminar on "National Education Policy – 2020: A Vision for Future India" on Friday, 12th March 2021.
Image Of Events: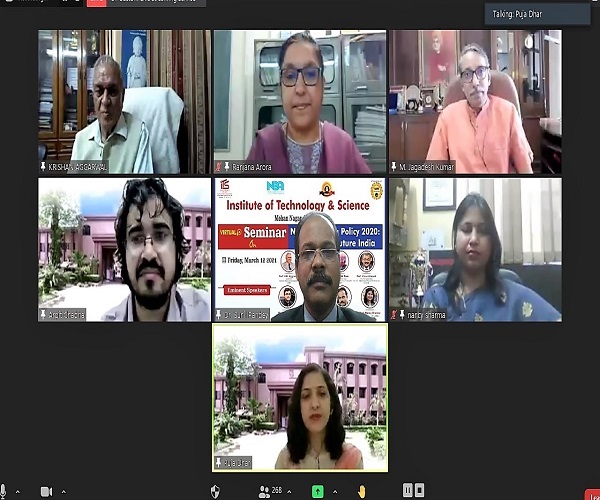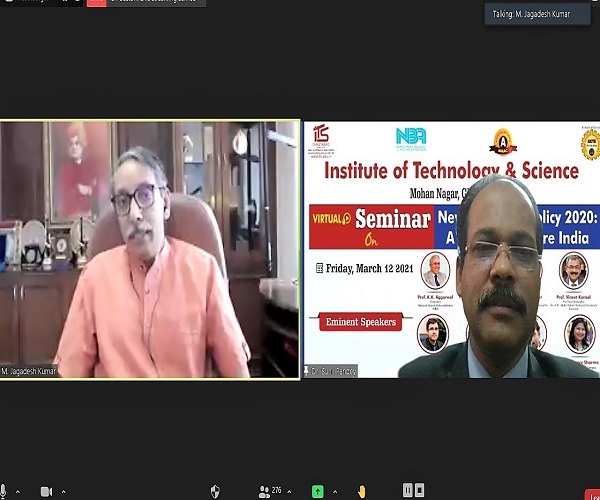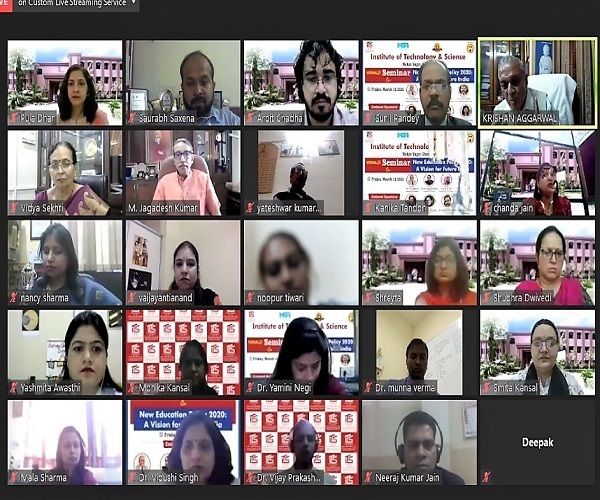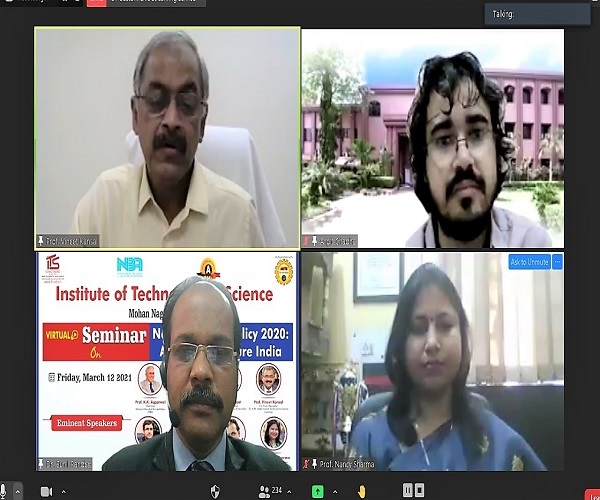 Hide Body Of News :
In this event, leading experts of the country addressed and shared their perspective on National Education Policy-2020, its provisions, proposed revamping & restructuring of Education System in India and how these provisions could be implemented. All the guests in their address emphasized on the need of faculty training and about crucial role of faculty members & Teachers in its implementation at School Level as well as Higher Education.
Mr. Arpit Chadha, Vice Chairman, I.T.S-The Education Group welcomed all the guests and talked about the challenges which may be encountered during implementation of NEP-2020 provisions along with different ways to counter them. He said that NEP-2020 is an ambitious Policy with provisioning to create an Educational Framework with global competitiveness. It is very important that all the stakeholders are aware and especially faculty, who would carry crucial responsibility for its successful implementation, has clarity on different aspects of it.
Dr. Sunil Kr Pandey, Director (IT & UG) in his opening remark spoke about the need of a country-wide Education Policy and discussed about provisions, objectives and aims of different education policies (1968, 1986 and NEP-2020) and how NEP-2020 is aimed at globalization and deMaclization of Indian education by introducing Indian ethos, values and promoting Regional and Mother tongue.
Below mentioned Eminent guests addressed the participants in the event and shared their valuable & insightful deliberations on the broader theme:
1. Dr. K.K. Aggarwal, Chairman, NBA (National Board of Accreditation)
2. Prof. M. Jagadesh Kumar, Vice Chancellor, JNU, New Delhi
3. Prof. M.M. Pant, Former Pro Vice Chancellor - IGNOU & Chairman – PlanetEdu
4. Prof.VineetKansal, Pro Vice Chancellor, Dr. APJ Abdul Kalam Technical University, Lucknow
5. Prof.Ranjana Arora, Head, Dept. of Teacher Education and Curriculum Group, NCERT
Earlier, Prof. Nancy Sharma, Vice Principal-UG Campus briefed the audience about the objective of this Seminar and mentioned the need to have more understanding on the different aspects of NEP 2020, seeking out growing opportunities & related challenges for the successful implementation of the Educational reforms. She emphasized on the need of adaption with the journey of change so that better and high-quality educational opportunities can be brought out for our Youth who is the future of our Country.
More than 500 Participants from various Colleges/Universities/ Schools from all across the country and different other countries attended the event in the online mode.