Department of IT, I.T.S Ghaziabad organized The Online National Summit on theme "Cyber Security: Issues of Concern for Businesses, Challenges & Remedies" on 20th March 2021.
Image Of Events: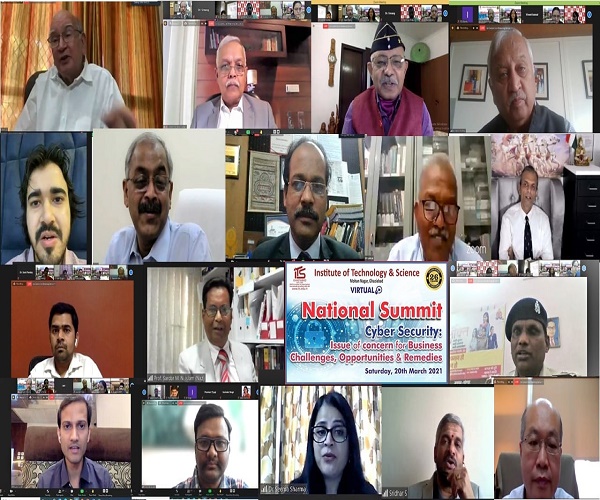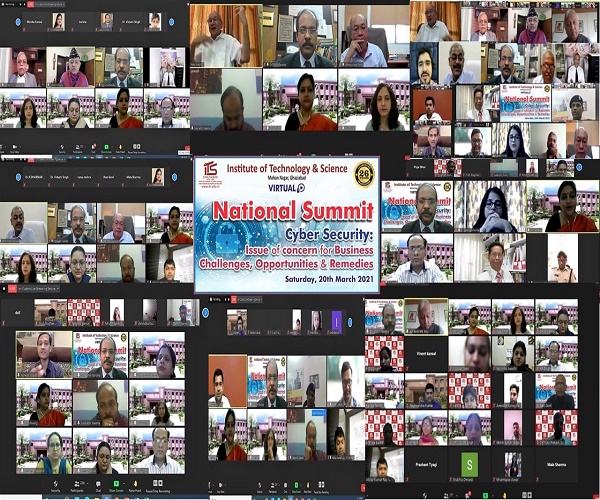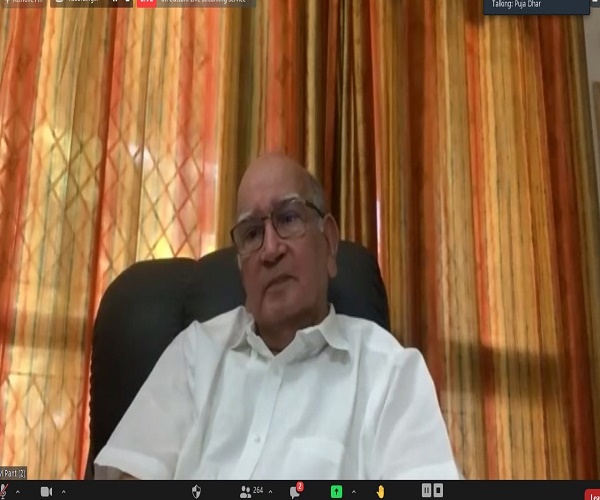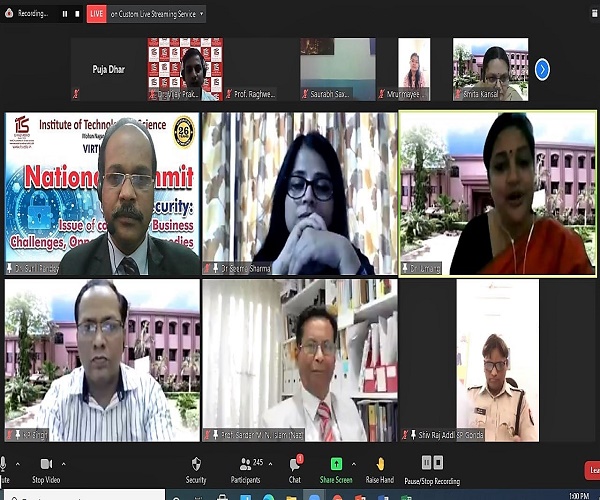 Hide Body Of News :
In this very important and unique event, The Summit, Globally Renowned experts from various facets including – National Security, Defense, Cyber Crimes Investigating Agencies, Industry, Academia & Research, Cyber Laws, Ethical Hackers etc. addressed and interacted with the audience of all across the country throughout the Day in different Sessions of the event.
Event comprised of Inaugural Session and three technical sessions.
Inaugural Session : Cyber Security: Challenges & Opportunities graced by Key note Speakers of session Air Marshal P K Roy PVSM AVSM VM VSM, National Security Expert,Prof. Sheng-Lung Peng,National Taipei University of Business, Taipei, Taiwan, Prof. M.M. Pant, For. Pro-Vice Chancellor - IGNOU & Founder Chairman – PlanetEDU, Prof. Vineet Kansal, Pro-Vice-Chancellor, Dr. APJ Abdul Kalam Technical University : AKTU
Technical Session 1: Information Technology & Cyber Warfare – Global Challenges
In the technical session 1; Maj. Gen. Shashi Asthana, Global Strategic & Military Analyst and Chief Instructor – USI, Lt General (Dr.) R S Panwar, Analyst, Future Warfare, Lt. Col. Prashant Mishra, Asst. Vice President, Tata Tele Services addressed the gathering.
Technical Session 2 : Cyber Security : Research Issues & Opportunities to counter Cyber Security Challenges
In Technical session2; Prof D.K. Lobiyal, Dean & Professor, SCS, JNU Delhi, Prof. Sardar M. N. Islam (Naz), Victoria University, Australia, Dr. Seema Sharma, Executive Director; Centre of Women Policy Research, Shri S. Sridhar, Sr. Vice President, Tata Communication, Bangalore
Technical Session 3: Cyber Crimes – How to be Safe in Cyber Space – Case Studies
In Technical Session 3: Shri Vishal Vikram Singh,Add. SP – UP STF, Shri Rahul Mishra, Advisor (Cyber Security), UP Police, Shri Shiv Raj, Superintendent of Police, Gonda,
 Mr. Rizwan Sheikh, Renowned Cyber Security Expert & Ethical Hacker, Mumbai and Mr. Archie Jackson, Sr. Director & Head of IT & Security, Inceed Inc. addressed the gathering.
Overall; it was a day with full of learning, demonstrations about Cyber Risks, Hacking and discussions on very relevant themes.
Event concluded on grand note with participation of over 1000+ Participants throughout the day in different Sessions from 26 States of the Country and 17 different Countries including USA, Canada, KSA, Mauritius, Indonesia, Bangladesh, Bhutan, Zimbabwe, Zambia, Nigeria, Malaysia, Morocco, Uzbekistan, Bahrain, Singapore.