Prof. Parul Gupta, Faculty of Department of Management at I.T.S Ghaziabad, participated and presented a 
Image Of Events: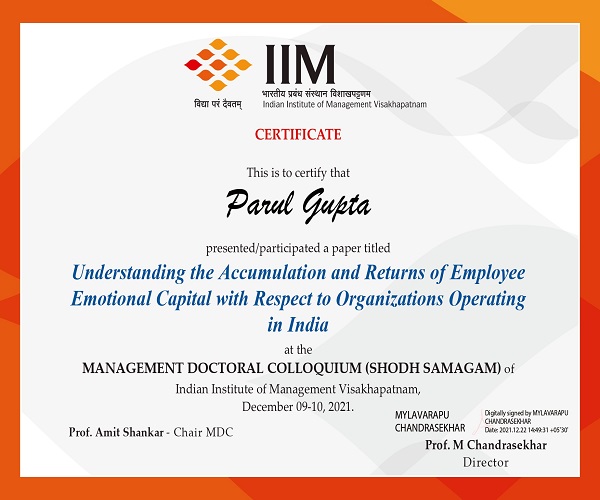 Full Date Of Event:
Friday, December 10, 2021
Hide Body Of News :
Paper titled 'Understanding the accumulation and returns of employee emotional capital with respect to organizations operating in India' in Management Doctoral Colloquium (Shodh Samagam) organised by IIM – Vishakhapatnam  dated December 9-10, 2021.  It was a two days virtual event where out of 250 entries, 50doctoral scholars from premier institutes across India were selected to present their research works.
The objective of the colloquium was to create a platform for research scholars can seek knowledge, learn new research techniques, and receive feedback from eminent academicians. The colloquium offered constructive feedback and insightful comments to the research scholars for enhancing their research and making valuable contribution to their respective domains.