Prof. Shilpi Vaish, Faculty of Department of Management at I.T.S Ghaziabad attended a one-week online Faculty Development Program on "Classroom Management Skills & Online Delivery Techniques" from 4 -9 October, 2021 .
Image Of Events: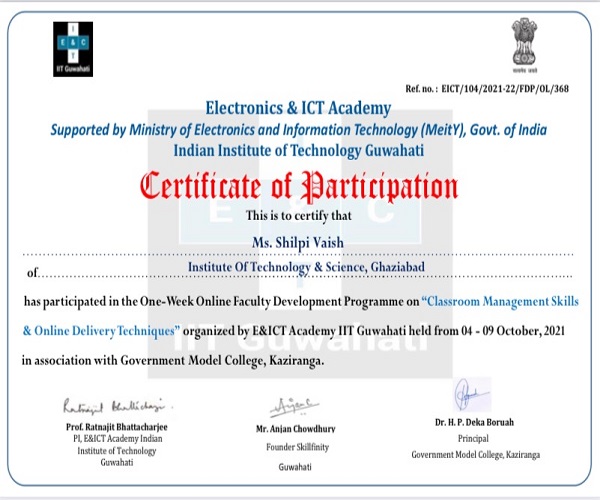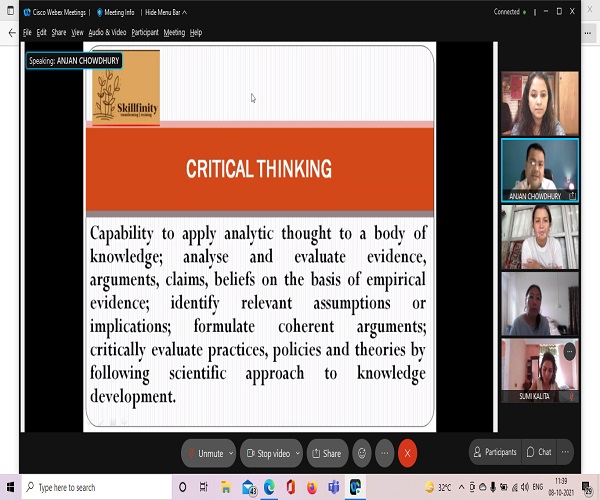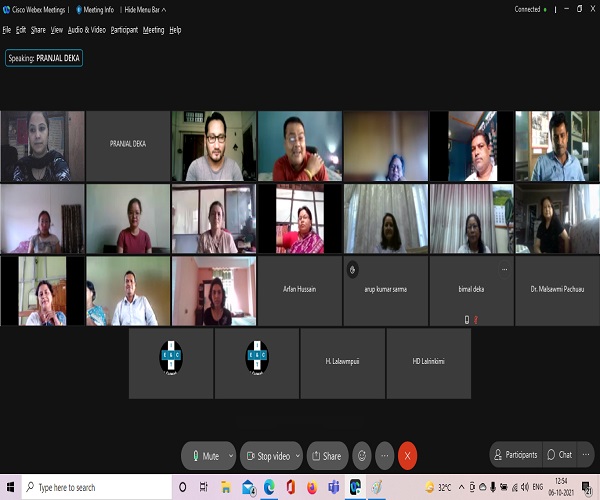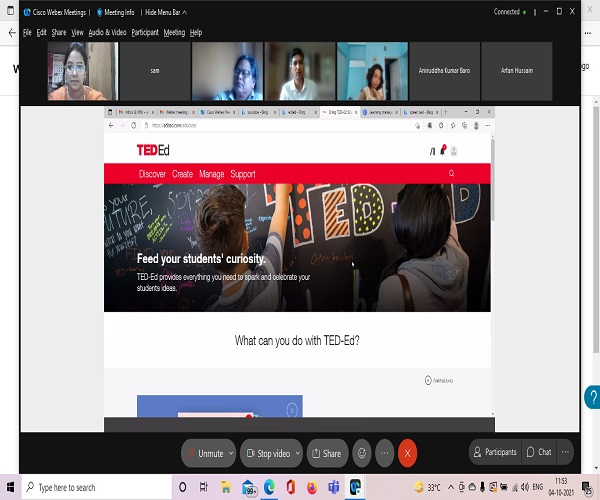 Full Date Of Event:
Saturday, October 9, 2021
Hide Body Of News :
This FDP was an Initiative of the Ministry of Electronics & Information Technology (MeitY), Government of India Electronics & ICT Academy IIT Guwahati, Assam, organized in Association with Government Model College, Kaziranga and was a 40 Hours of course for the per day timing of 10 am to 5 pm.
The online FDP witnessed participation from 50 selected Faculty members and PHD Research Scholars from across India. It aimed to impart training to a level where faculties will be benefited in terms of the teaching style, personality improvement, classroom delivery and help the faculties to create a strong mentor mentee relation required for overall development. 
The topics and schedule covered are mentioned below:
4th October, 2021
·    Inauguration Ceremony 
·    Introduction of Learning Management System
·    Benefit of using Learning Management System
·    Various Learning Management System tools available
·    How to design your own Learning Management System
5th October, 2021
·    Classroom Transaction, Pedagogical Approaches in Teaching in Higher Education
·    Micro Teaching Techniques, Question paper setting and  Evaluation patterns and Techniques
6th October, 2021
·    Virtual Delivery Techniques
·    Life Skills
 
7th October, 2021
·    Mentoring Techniques, Career Counseling
·    Attitude Crafting, Behavioral Skills
 
8th October, 2021
·    Classroom delivery enhancement techniques
·    Gratitude Attributes
9th October, 2021
·    Project Work, Assessment, Case Studies
Continuous Monitoring and Assessment was conducted by E&ICT Academy IIT Guwahati. The weightage of the Assessment (100 Marks) as follows:
o Theory Assessment (MCQ/Descriptive) : 30 Marks
o Practical Assessment/Assignment/Activities : 40 Marks
o Classroom Attendance/Monitoring and Assignments : 30 Marks
On the basis of percentage, the certificate was awarded. All the resource persons were masters of their own field and seasoned trainers. This extremely informative FDP will help me in training participants with a variety of modules and different styles of conduct which can enhance their overall personality.