Department of Management I.T.S Mohan Nagar, Ghaziabad organised Genesis 2021 - the Business Plan Competition under the auspices of Ministry of Education and IIC ITS on Friday, 26th  February, 2021. The programme consisted of an Inaugural Session followed by business plan presentations by the participants from various institutions.
Image Of Events: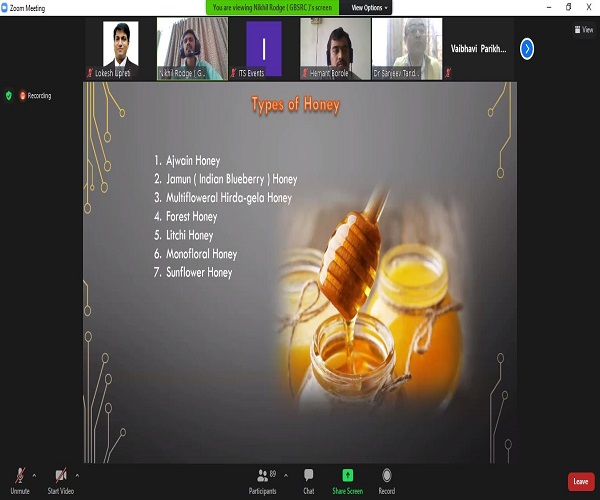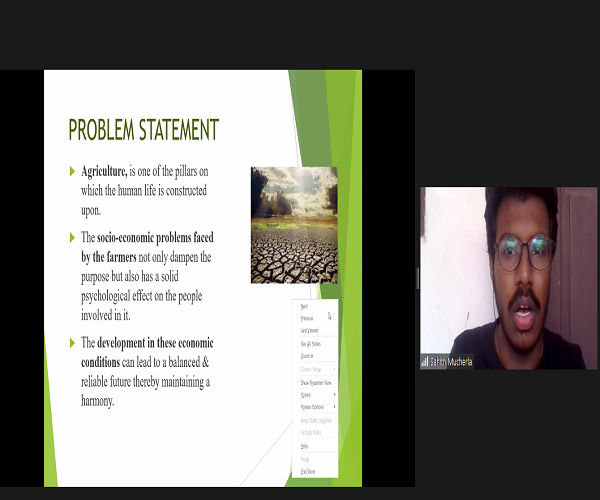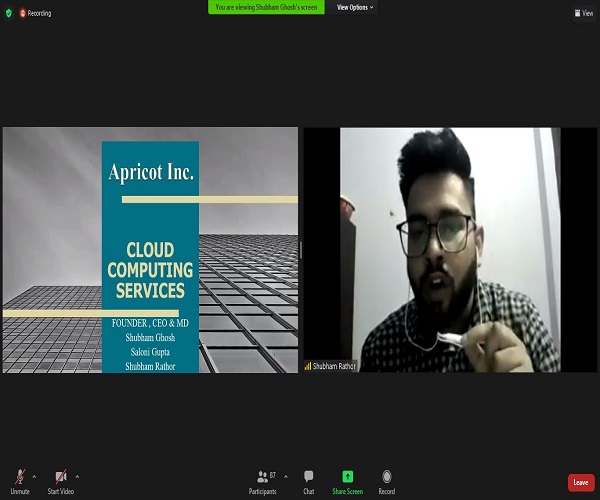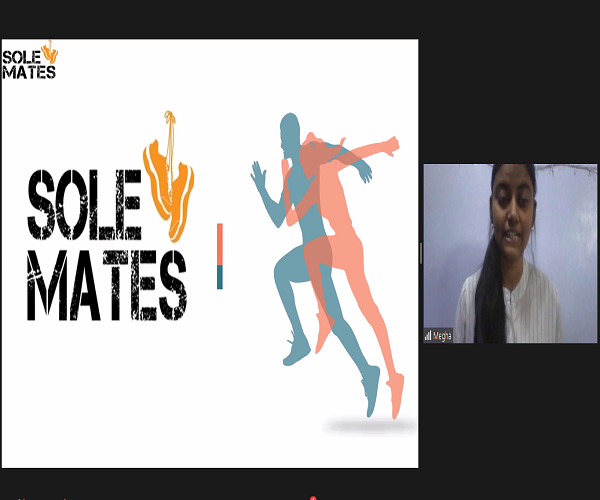 Full Date Of Event:
Friday, February 26, 2021
Hide Body Of News :
The inaugural session started at 10:00 AM. The Chief Guest for the occasion was Dr Buddha Chandrashekhar, CCO AICTE, Ministry of Education and Head, NEAT.  The Guest of Honour was Mr. Amitava Pal, Author and Associate Dean IISM, Mentor AIM IIT Mumbai.
The program commenced with an enriching address by Respected Shri Arpit Chadha, Vice Chairman, I.T.S - The Education Group and a warm welcome address by Respected Prof. (Dr.) Vidya Sekhri (Director Management I.T.S). Dr. Vidya Sekhri motivated the participants that winning or losing does not really matter; what matters is the spirit of participation. She emphasised that this competition aims at enhancing entrepreneurial and leadership skills. She also added that through this platform students will get an opportunity to get mentorship and guidance for their business plans along with the much needed real world experience.
The first speaker of the Inaugural session was the Chief Guest Dr. Buddha Chandrashekhar focused on the importance of the business plan and pointed out the five aspects which should  be kept in mind while preparing the business plan, viz., - People, Process, Technology, Funding and Management. He also mentioned that we need to be focused and to stick to the vision. He also cautioned that one should not be afraid of failure because good opportunities are there and we need more job generators.
The second speaker was the Guest of Honour Mr. Amitava Pal who added one more, i.e., the fact that an entrepreneur should be a good human being and should not take any shortcuts. It is necessary to innovate for a unique product which can fill the gap between the expectation and the actual presentation.
At the end of the session a virtual plaque was presented to both the esteemed guests by Director Management as a token of gratitude for their valuable inputs and ideas. Overall the inaugural session was very encouraging; students participated with zeal and a number of queries were raised at the end.
Track I
Track I followed the Inaugural Session, This session featured five teams with ideas based on themes as diverse as agriculture, the Internet of Things, cloud computing, and beekeeping.
The moderator of the session was Prof Shikha Arora while the jury members being Dr. Rajiv Ratan Shah and Dr. Sanjeev Tandon.
The first team consisting of Swetha Reddy, Vishal Raj, Mucherla Sahith dealt with the topic Green IoT for Smart Agriculture in New India. Their target market consists of farmers who are in need of organic manure and consumers who require organic food. The team proposed a unique methodology designed to meet the socio-economic challenges facing farmers across the country.
Next up was Team Spark featuring Shubham Singhal, Himangshu Rai and Megha with their venture Sole Mates. This startup is a shoe company. The product line includes formal shoes, casual shoes and sports shoes. The target segment consists of students and professional people. The highlight of the startup was digital shoes with features for detecting speed, measuring distance, counting calories, measuring body weight, a pulse rate sensor and evaluating posture.
The third team was The Business Geeks involving Koushiki Basu & Tushar Sharma. Their company was Cascade Stores. The business idea revolved around office supplies. The product line included office basics, furniture and seating, paper supplies and technology & machines. Their B2B goal is to tie up with Pepperfry, Amazon etc and in future they would also like to build their international presence as well. On the other hand their B2C goal is to provide customised products demanded by clients.
Then came BeeCastle made up of Nikhil Manoj Rodge & Hemant Rajendra Borole. Their concept was based on honey, where they intend to sell different types of flavoured organic honey like ajwain flavor honey, jamun flavor honey, multifloweral hirda gela honey, forest honey, litchi honey and sunflower honey. Their target is people above the age of 12 months. They would like to focus on health, purity and reasonable price. The marketing strategy includes websites, social media marketing, and brochures, marketing at different exhibitions, YouTube, mobile application and blogs. In order to create the value proposition they are resorting to educational campaigns, social media and providing pure honey.
The final team in this session was the uniquely named Doctor With a Stranger having Shubham Ghosh, Saloni Gupta and Shubham Rathore with Apricot Inc. Their services included IaaS, PaaS, and SaaS. The strength is cost effectiveness, high profitability and revenue, resilience and disaster recovery. Weakness increased dependency and high speed internet connection. Opportunities include quick solutions of the problem, offering modern information solutions according to the latest technology. Threats include security concerns, lack of specific standard regulations.
After the completion of the group performance, the moderator called upon the jury for feedback and suggestions.
Finally Dr.Rajeev Johri was invited for the vote of thanks and presenting of plaques the visiting Dr. Rajiv Rattan Shah.
Track 2
Track 2 included Service Industry Presentations.
Mr. Rajat Bharadwaj & Mr K.K. De were the jury members for the session. Competing teams included those from institutions like NMIMS University, Mumbai etc.
The first team to present their business plan was from NMIMS University, Mumbai. The Concept Crew presented on the concept of "IoT Based Smart Parking System" which helps the car owner to pre book a parking slot at their destination so as to avoid hastles and to reduce traffic congestion. The jury members appreciated their idea and suggested measures like providing a live camera feed for its premium customers who own expensive cars and also to make the system "Use and Pay Basis" without charging any subscription fee.
The second team was Team Mavericks from CVR College of Engineering, with their business plan "IoT Based Smart Saline Bottle System" used to monitor and regulate the flow of saline. They presented their estimated cost for a single product and the total requirement of funds for setting up the plant. They informed the Jury that they have even projected their idea to MSME, Government of India.
The third team was Team Sunshine who presented on the idea of "Wardrobe Secrets", an application for personalised outfits based on body type, skin tone etc. which suggests all available outfits on various e-commerce websites. The service would be available in two modes, viz., - commission model and advertisement model.
The next team was Team De-Constructors from NICMAR Pune. Their business De-Con was aimed at creating an end to end network of resources that help in turning waste materials into reusable sustainable material. It is an online platform providing single point solution for all deconstruction services like selective deconstruction and dismantling. They expect that it will help to have safer and much cleaner options resulting in minimum debris and demolition. Jury members appreciated the unique idea of De-Con and they suggested that they can sell the remaining product to builders who are working on new projects and also act as a mediator between two builders or contractors.
The last team was"Thought Process Events" from ITS Mohan Nagar. Thought Process Events is a talent management company which provides a stage to new talents for showcasing their talent and following their passion like open mics. Their target audience is made up of artists like budding poets, singers, and comedians.
Towards the end of the session, Dr. Indraneel Mandal appreciated the excellent work being done by all the teams. Director Management, Prof. (Dr.) Vidya Sekhri shared her concluding remarks and appreciated the innovative ideas by all the teams and thanked all the jury members for their valuable guidance to budding entrepreneurs. She presented a virtual plaque to the Mr Bharadwaj as a token of gratitude and remembrance.
Following the declaration of results, Dr. Puneet Kumar gave a vote of thanks.
As the day drew to a close the assembled audience marvelled at the breadth and diversity of ideas from the would be entrepreneurs. The takeaway for the students was that any idea could be workable through a judicious thought process and the right business plan.