Finvest Club of Department of Management at ITS – Mohan Nagar, Ghaziabad organized an online activity "FINTALK"—The Finance orators leading the way! for MBA (2020-22) batch on 29th January, 2021.
Image Of Events: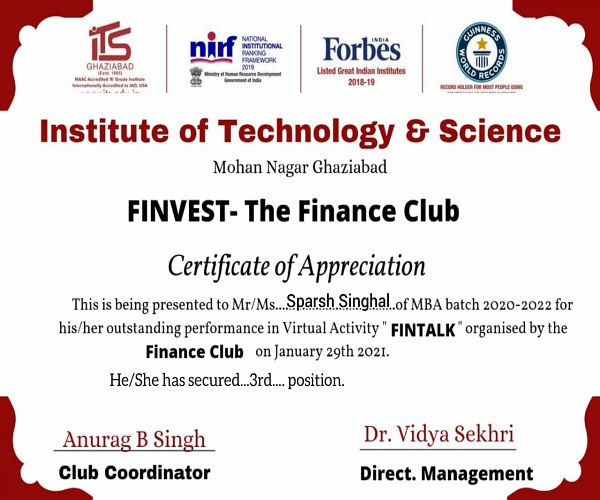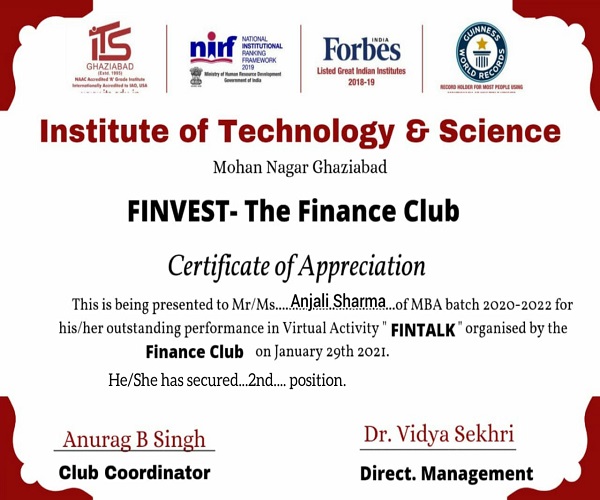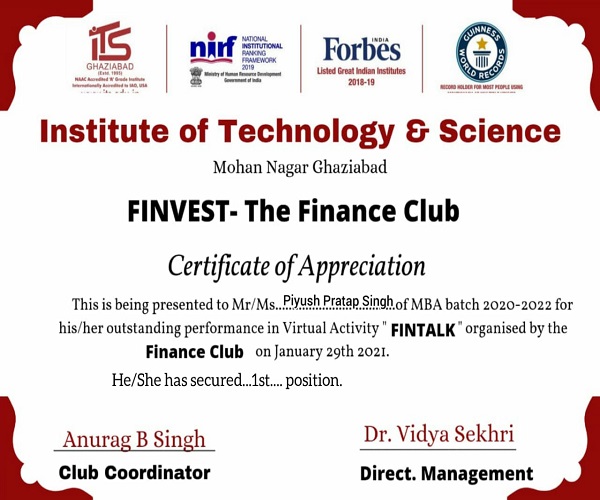 Hide Body Of News :
The activity was in Two Rounds:- The first round of the activity was by floating Google form to the participants through link in which Reasoning and Aptitude questions were there containing 30 questions, which has to be done in 15 minutes
The second round of the activity was An Extempore round which checked the ability of the students that how much they are confident and able to communicate on virtual forum with their best of knowledge. The participants spoke on their respective topics allotted to them by the club on the spot and they were having 2minutes to speak.
Judging was based on 3 criteria: Content, Communication skills, Confidence level.
The activity started sharp at 4.00PM with the introduction video. We had our seniors as the judge of the competition. Out of 8 participants, top 3 performers of the activity were awarded with Appreciation Certificate and rest others were given the Participation Certificate.
The Activity was conducted by Finvest Club members of 2020- 22 batch under the guidance & supervision of Finvest club coordinator Dr. Anurag Bahadur Singh & the senior member of batch 2019-21.
Mr Piyush pratap singh secured first position, second position Ms. Anjali Sharma and at third by Sparsh singhal.