With an objective to promote and create awareness among students of MCA Programme, a Three-days Entrepreneurship Awareness Camp (EAC) sponsored by Department of Science & Technology, Government of India, New Delhi was organized by Entrepreneurship Development Cell (E - Cell) of Department of IT, Institute of Technology & Science Mohan Nagar, Ghaziabad organized from 06th - 9th January 2017.
Image Of Events: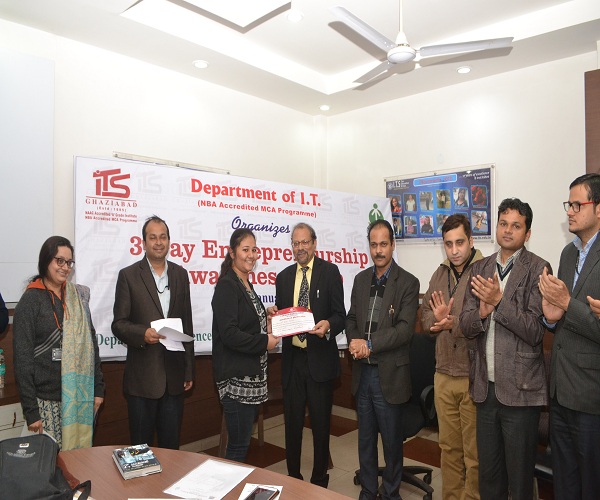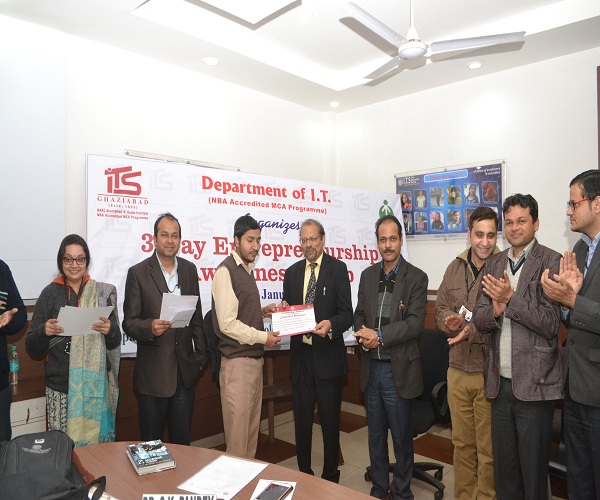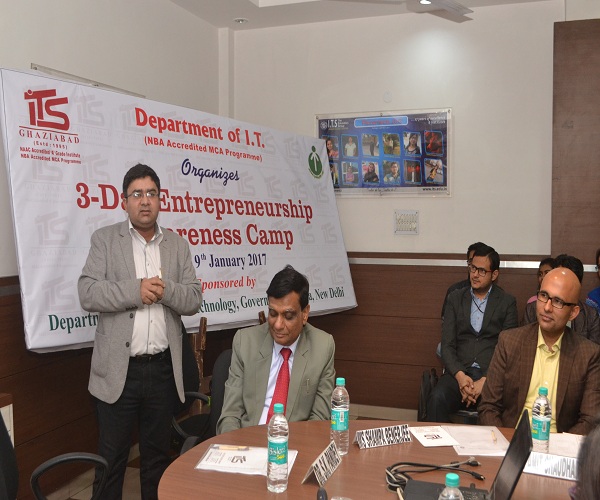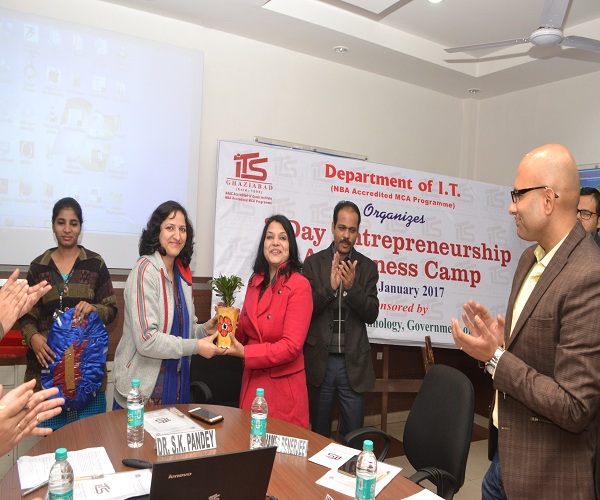 Hide Body Of News :
Day-1 
Considering the objectives of the entrepreneurship awareness programme and the expectations of the participants, the programme contents, delivery and sequence was fine-tuned on the very first day of the programme. The participants were encouraged to challenge the concepts, ask questions and participate actively in the class-room interactions. The class room learning was supplemented by well compiled course material and handouts.
The Camp was inaugurated on 6th January 2017 by Dr. A.K. Puri- Director General, I.T.S, Mohan Nagar, Dr. S.P. Mishra, Dr. Vidya Sekhri- Director-U.G. campus ,Dr. Sunil Kumar Pandey - Director-IT, Chairperson MCA Prof. Puja Dhar, Event Coordinator Prof. Saurabh Saxena and Prof. Varun Arora. Total 75 students of MCA IV Semester attended this entrepreneurship awareness camp.
Dr. Sunil Kr. Pandey Director-IT while address the gathering touched the various dimension of entrepreneurship from raw to the actual product. He very well said when a time poses challenge is when the real entrepreneur emerges. He shared with student that in each of us an entrepreneur exists which inspire us to experiment, fail, retry & succeed in our professional & personal life.
Director General Dr. A.K. Puri, shared live examples of startup organization. He spoke on concept of Business, understanding & sensing opportunities and translating into Business Plan.He motivated students to think differently and start their own business. He delivered a wonderful session on Idea sensing & generation. It was very interesting session where the participants are divided into groups where they have to generate new ideas for entrepreneurship. The participants had learned and even delivered their new ideas for being an entrepreneur through presentation
Dr. S. P. Mishra who is always the source of inspirations & motivating us for promoting & getting engaged with entrepreneurial activities blessed the student with an informative & motivational talk by taking various live examples.
Dr. Vidya Sekhri emphasized the need for entrepreneurship and highlighted how the entrepreneurial eco-system has changed in recent times. She urged the students to take maximum advantage of the growing economy by venturing in to their own business.
Prof. Saurabh Saxena Coordinator-E-cell briefed the participants about the structure, design of the programme and spelt out the expectations of the organizers from the participants. The session was devoted to an interactive session on "Introduction to Entrepreneurship and Charms of becoming an entrepreneur". He briefed the participants about the primary objective of this camp was to make the participating students aware about the different areas of skills where they can establish themselves as Entrepreneur and create the job for others. Participants were aware about various components of entrepreneurship development process through lecture, panel discussion, interaction and experience sharing by existing entrepreneur.
Prof. Puja Dhar Coordinator-MCA while addressing said department of IT is always trying to give various opportunities to our students to know the best possible career options which are available in the market and this is the need of our that we understand the options, opportunities & prospects available to us.
Second session was taken by Prof. Saurabh Saxena on Entrepreneurial Attributes & Mapping. In his address, he emphasized the need for entrepreneurship and highlighted how the entrepreneurial eco-system has changed in recent times. He urged the students to take maximum advantage of the growing economy by venturing in to their own business.
The last session on the first day was devoted to Transition from Academics to Entrepreneurship and was handled by Prof. Varun Arora. He introduced the students to entrepreneurial motivations, values and attributes with help of different exercises. He also explained how the students can think towards being an entrepreneur.
Day-2
Pre-Lunch session was taken byMs. Shampa Banerjee, Executive Director WASME & Owner of NGO SAVE, Shared her experience that how she created many poor women an entrepreneur. Ms. Banerjee emphasized on the need of repeated assessment of an idea before actually thinking of direct implementation, as at a later stage such approach may lead to difficult situation. She shared many inspirational cases that she encountered and got involve in establishing them successfully.
Post-Lunch Session taken by Shri Amit Chaudhary Growth Catalyst inMorphis & Shri Rajat Agarwal Regional Head OLA-Digital.
While addressing the participant Amit shared his own journey & presented a detailed discussion on importance of idea and its implementable action plan.
Shri Rajat Agarwal shared the example of Mobile application development. He shared that for become a good entrepreneur you should be learn from your failures.
Day-3
Valedictory Session
Dr. V.K. Arya, Former Deputy Director, NIC, Government of India took the session. In his session he addressed students about the various scopes of being entrepreneurship in the field of Mobile computing. He motivated students to start their own ventures without being worried about failures. He said that with small startup they can build their future. He said the students should be job providers rather than job seekers. After this , a valedictory session was organized. Director-IT Dr. Sunil Kr. Pandey congratulated the participants for completing 3Days Entrepreneurship Awareness camp & wished them very best for future end ever. 
Vote of thanks was proposed by E-Cell Coordinator Prof Saurabh Saxena.
During this 03-days event, all the faculty members of Department of IT and students of MCA IV Semesters were present.
Industrial Visit
On third day, an industrial visit was planned for students to TCS, Noida, where students learnt about various aspects of working in IT-Company.
The concluding session along with Certificate distribution was held at Institute of Technology & Science, Mohan Nagar, Ghaziabad.