Department of management studies of I.T.S Ghaziabad celebrated the foundation day of Strategic Management Forum of India on 21st January, 2016. "Make in India: Unlimited opportunities" was chosen to be the theme of celebration. A panel discussion for the students of Post Graduate management programme including PGDM & MBA was organized on the occasion. More than 200 students and 25 faculty members along with the panel experts participated on the occasion.
Image Of Events: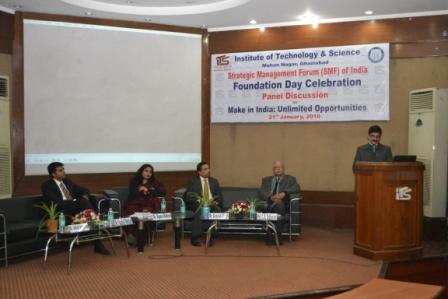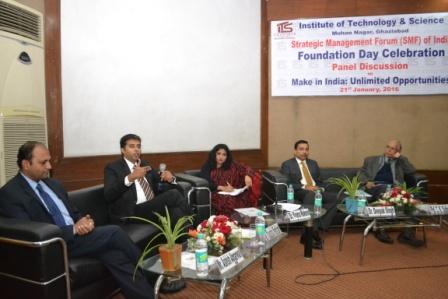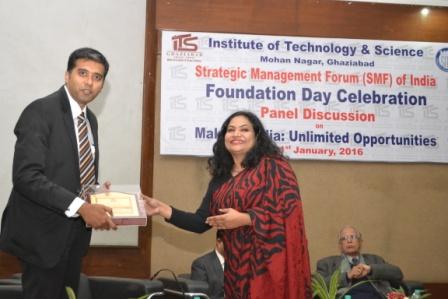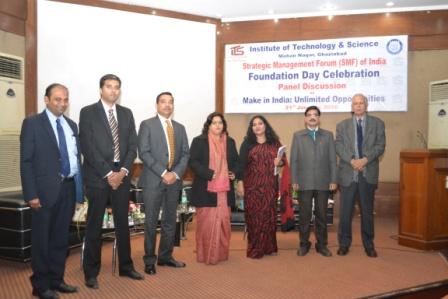 Full Date Of Event:
Thursday, January 21, 2016
Hide Body Of News :
Mr. Ashish Agarwal, CEO, A N S Steel Tubes and COO , Jai Bharat Maruti, Mr. Kaushal Mehtani , CFO Tata Communications, Mr. Deepak Singh , Director HR, KPMG India, Prof. C. K. Sabhharwal, Professor – marketing, Director- Crop Health Director and a Entrepreneur and Dr. V. N. Bajpai , Professor Strategy , ITS Ghaziabad were the panel experts. Dr. Sapna Rakesh, Director (Management) was the moderator for discussion.
India has undergone a paradigm shift owing to its competitive stand in the world. The Indian economy is on a robust growth trajectory and boosts of a stable annual growth rate in India. Make in India initiative launched by Prime Minister Narendra Modi on 25th September 2014 is a major new national programme designed to facilitate investment, foster innovation, enhance skill development, protect intellectual property and build Best - in - class manufacturing infrastructure.
The panel discussion brought out key highlights of the make in India plan and the challenges ahead. The experts brought out key impediments' and sluggish growth of the targets. However the changes in the policy environment, perception of the intent of the government, positive sentiments of Indian and international investors is a ray of hope in nearing the gap in targets. The panel had expert from different fields that deliberated a well rounded perspective on make in India and discussed how Make in India can really help in making a renewed India. The celebrations extended the thought process of SMF and integrated industry, faculty and students.
The SMF foundation day was celebrated in fourteen institutions, in nine states across India. Apart from enriching the understanding of Make in India, It gave a platform to strengthen the relationship with SMF and it's associate institutions. The report of the event celebration has been shared with the faculty members, and industry persons of associated institutions. The effort of ITS is well appreciated by the academicians of leading institutions. We have received appreciations and congratulation mails from Prof Krishna Kumar, Founder of SMF, Professor –Strategy at IIM Lucknow & Ex Director, IIM Kozhikode, Prof Atanu Ghosh from IIT Bombay, Prof. Sushil Khanna from IIM Calcutta, Prof Arun Sahay, Professor- Strategy at BIMTECH and Ex CEO of Scooters India Ltd. Prof Subhash Sharma, Director- Indus Business Academy, Bangalore, Prof K Rangarajan from IIFT, Delhi.