Department of I.T organized seven days Orientation Programme of its newly, admitted 23rd batch of MCA (2019-2020) at the Institute from 16th August to 23rd August, 2019.
Image Of Events: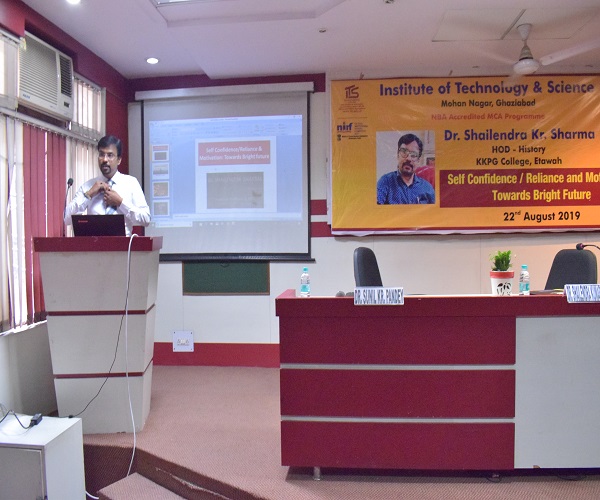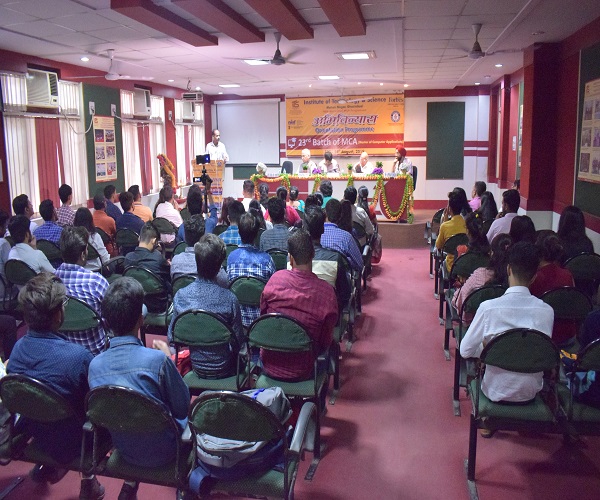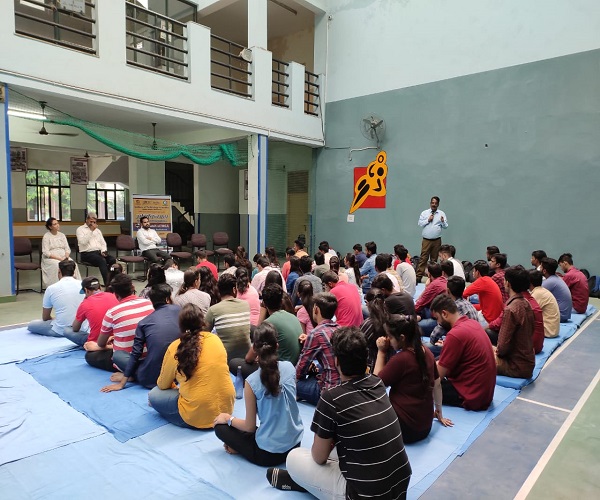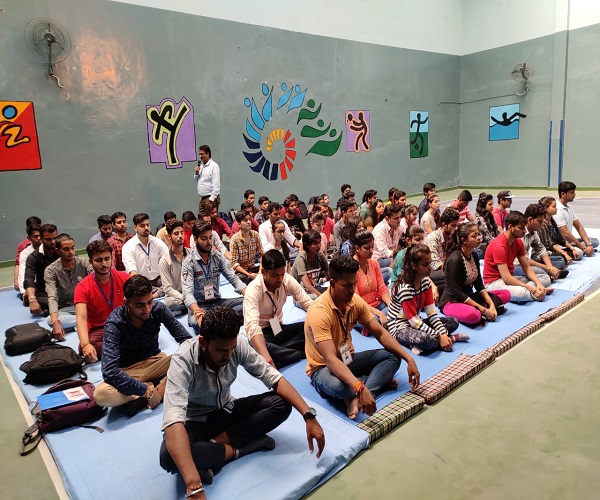 Hide Body Of News :
The formal inauguration and opening ceremony for the above mentioned batch of MCA Course was on 19th August, 2019. Opening & Inaugural ceremony was formally inaugurated with the lamp lightning by Vice Chairman, I.T.S-The Education Group, Sh. Arpit Chadha, Chief Guest , Dr. M. M. Pant, Former Pro-Vice Chancellor, IGNOU and Founder & Chairman- PlanetEDU, Keynote Speaker, Air Marshal P.K. Roy (Retd.), Indian Air Force, PVSM AVSM VM VSM, Member - USI Council of India, Guest of Honor, Mr. Upkar Singh, Director (Technology), FIS Global, Director-IT, Dr. Sunil Kumar Pandey, Chairperson- MCA Programme, Prof. Puja Dhar and Coordinator-MCA, Prof. Smita Kansal.
Chairperson-MCA, Prof. Puja Dhar while welcoming the students of 23rd Batch of MCA said that the I.T Department believes in the process of learning by doing and hence the University prescribed curriculum is well supplemented with various value added Modules, continuous industry interaction, different IT Clubs, industry visits, CXO Meet, CEO Meet, SAMAGRA, IT-Summit, Conferences and many more
Vice Chairman, I.T.S-The Education Group welcomed the newly admitted students of MCA and said that students will get ample of opportunities to interact with the Leaders of Industry which will help them to corelate their university syllabus with the real corporate life.
While addressing the students Director-IT, Dr. Sunil Kr. Pandey said that Department always provide the Opportunity to students of MCA to work on Industry Projects during studies. In house Skill Development Cell for overall development and Placement preparation modules. He said that Department of I.T organizes many Industry visits for MCA students to leading IT Companies like TCS, SOPRA, Data Centers and the Organizations who have adopted Technologies including Narora Atomic Power Plant, AMD, Smart Health, Apple Center of Excellence, Mother Dairy, ITS-CDSR for CAD & CAM System used in Dentistry
Chief Guest of the inaugural ceremony, Dr. M. M. Pant talked about the shaping minds for the new millennium. He said that success happens when preparation meets opportunities. He also discussed about the Top 10 skills of year 2020 and technology mega trends in the 4th Industrial revolution.
Keynote Speaker, Air Marshal P.K. Roy wished all students best luck for the new beginning of their professional career and advised them to work hard and be updated as per the demand of the Industry.
 Guest of Honor, Mr. Upkar Singh said that students have to come out of the shell and make the road map for their career. He very nicely explained about the VUCA world which means Volatility, Uncertainty, Complexity and Ambiguity. He also advised students to follow 10-E Keys starting from Enthusiasm to enjoying the successful life.
This was followed by four days Orientation Program to sensitize students with MCA Program, Course requirement & structure, industry orientation through invited Industry people and other basic technical skill sets which are required for their professional development.
From 20th August to 23rd August, 2019 some special sessions were also scheduled after the inaugural day. The objective of these sessions was to make the new students aware about requirement from the industry so that they can prepare themselves accordingly.
In continuation with the Orientation Programme, on 20th August, 2019, Students were involved in a Meditation Session where the team members from Heartfulness Meditation centre were invited. Students enjoyed many mind games and they also gave them some tips to sharpen their mind while they are in stress.
In the series of Invited talks by eminent alumni of repute by Dept of IT of the institute with an objective to provide the detailed insight of the latest developments in interpersonal skills, technology, research issues and futuristic development.
On 21st August, 2019 Ms Nidhi Kapur (Batch 2001), Founder & Director, Viharin.com was invited to conduct the session and to address the MCA Students. Ms. Kapur guided as how to prepare for a career of choice and succeed. Mentioning about the latest current scenario–Attributes of High Performers in Technical Skills & Soft Skills. It was truly mesmerizing to listen her and her thought process.
Mr. Pramod Joshi, Co Founder- Director, Winning Myntra, Mr. Sudhanshu Hajela, Corporate Leader Education & Management Trainer and Mr. Dhiraj Kr. Sharma, Founder & Director Mr. IncBit Integrated System Pvt Ltd. was invited to conduct a workshop on "Corporate Expectation & Etiquette(CEE)" in Orientation Programme of  23rd Batch of MCA Students, at Institute premises. It was truly mesmerizing to listen speakers and their thought process. During the session, student centric activities were performed to make session more interactive & informative for better understanding of concepts.
On 22nd August 2019 to bridge the gap between industry and academia, Leading Industry Expert Shri Ashutosh Chadha, Group Director (Public Policy & Government Affairs), Microsoft India was invited to interact with the students. Mr. Chadha  started his session by explaining students the need of positivity and confidence in life. He also said that how fear makes you perfect to achieve goals. It was wonderful and interactive session.
Dr. Shailendra Kr Sharma, Professor at KKPG College, Etawah was invited to conduct session on  "Self Confidence/Reliance and Motivation" Mr. Sharma gave various encouraging examples from his own life and inspired students to be a self-motivator. He motivated the students to excel in study and career. During the session some useful videos were also played to motivate the audience. He gave some most important points and tips to the students to focus on studies and to fulfill their dreams.
On 23rd August, 2019, The Day-05 of MCA Orientation Programme of 23rd  batch of MCA  started with "A Panel Discussion on Cyber Security & Threats" by the experts. It was a Great Session by the leading experts of the Country including:
Mr. Bharat Anand, Chief Technology Officer, Ministry of Home Affairs, Mr. Golok Kumar Simlii, Ministry of External Affairs, Mr. Vineet Love, Director - Cyber Security, Mazars India,  Mr. Balvinder Banga, CIO, Varuna Integrated Logistics Pvt. Ltd. The discussion included an Overview of Cybercrimes and Cyber Security such as Electronic Commerce Crime, Economic Espionage, Infrastructure attacks, Defamation, Obscenity, discussion about Indian Cyber Law. The seminar was ended with full of Information and vision of being safe and secure in the virtual world.
It was followed by the Alumni interaction where MCA alumni including Mr C. K. Singh(MCA Batch 2004), Software Solution Architect, Hitachi Consulting, Mr. Abhishek Aggarwal (MCA Batch 2015), Sr Technical Specialist, HCL Technologies, Mr. Nitish Bhardwaj(MCA Batch 2015), Data Engineer at Paytm, Ms. Manisha(MCA Batch 2017), Software Test Analyst, Mercer. It was an eye open session where students asked many queries to the invited alumni and they too made this session interactive.
Overall the session was very interactive and informative for the students and faculties too.